Entertainments brought to you by
The Workjuice Corporation
Celebrating the release of Acker & Blacker's Star Wars: Join the Resistance novel, a variety show starring "Weird" Al Yankovic, folk-soul singer Gaby Moreno, Janina Gavankar (Sleepy Hollow), composer Michael Giacchino (Rogue One), Busy Philipps (Freaks & Geeks), Ahmed Best (Jar Jar Binks), singer/songwriter Sara Watkins, rapper Open Mike Eagle, Mark McConville (Superego), Matt Gourley (I Was There Too), rapper/comic Zach Sherwin, Steve Agee (The Sarah Silverman Program), Dermot Mulroney (My Best Friend's Wedding), musician Don Williams, director Kirk Thatcher (Neil's Puppet Dreams), director David Silverman (The Simpsons Movie), and Tom Everett Scott (That Thing You Do!).
To download the full audio and mp3's of the songs from the show, CLICK HERE
A stage show and podcast
in the style of old time radio.
New Thrilling Adventure Hour Comic Books!
BUY NOW! Digital-Exclusive SPARKS NEVADA #0 and BEYOND BELIEF #0!
Get these EXCLUSIVE digital downloads, featuring prequel tales of SPARKS NEVADA: MARSHAL ON MARS and BEYOND BELIEF, leading directly into the Thrilling Adventure Hour ongoing series from Image Comics!
An update on Kickstarter, Closing the Curtain, and More:
It's been a busy and emotional month here at the WorkJuice Corp, between the monthly live shows coming to a close and FINALLY mailing out the remaining Kickstarter rewards of the concert film DVD and graphic novels. Click Here to read what's on Acker & Blacker's minds.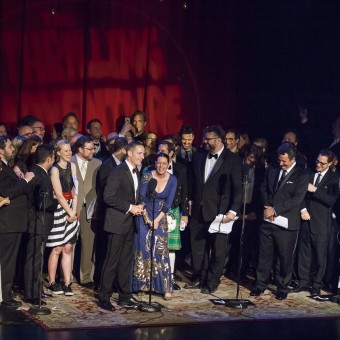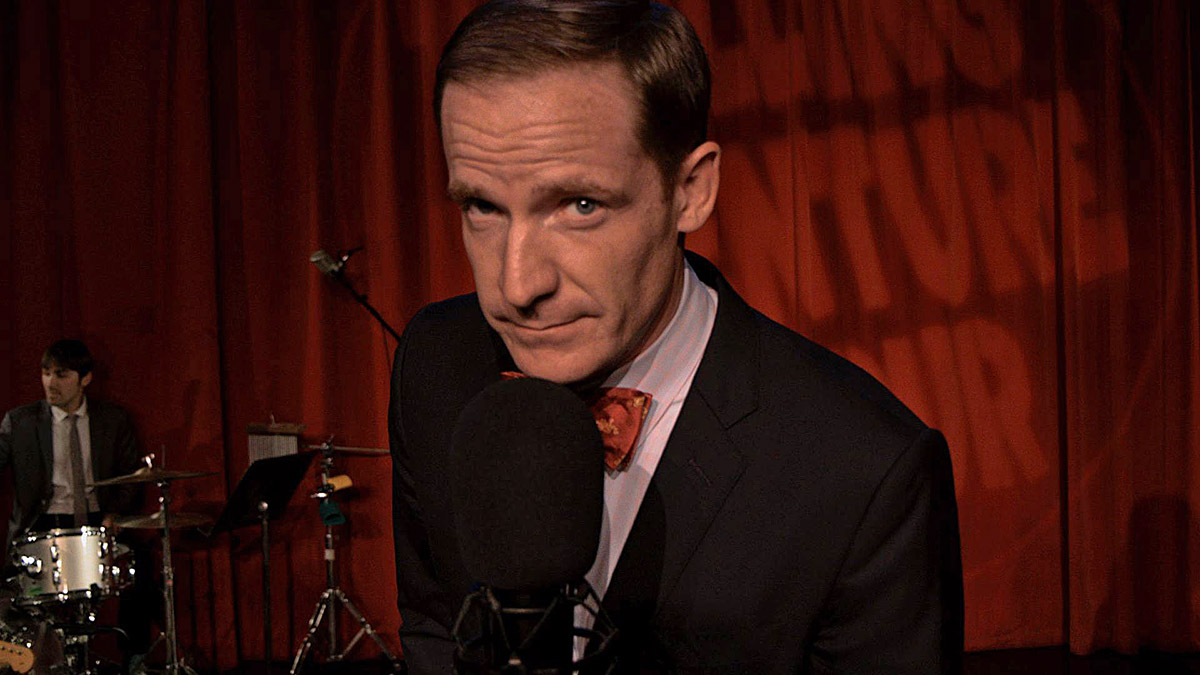 LATEST PODCAST
HungryFEED can't get feed. Don't be mad at HungryFEED. SimplePie reported: cURL error 22: The requested URL returned error: 404 Not Found
Listen toThe Thrilling Adventure Hour
You can download the Podcast through Nerdist or wherever fine pods are cast.
Watch the
Documentary Web Series
Get a glimpse of the other side of the stage of the production styled with the feel of old time radio and learn about what goes into each performance. It's energetic, sometimes frantic, but most of all, it looks like a ton of fun.
Ben Blacker and Ben Acker created The Thrilling Adventure Hour about nine years ago. It all began with a live-reading of a feature length "Sparks Nevada, Marshal on Mars" script, and the show evolved from there. Besides hearing from Blacker and Acker, the first episode features director Aaron Ginsburg and many members of the primary cast – the Workjuice Players – including Marc Evan Jackson, Paul F. Tompkins, Hal Lublin, Annie Savage, and many more. And yes, some guest stars make appearances.
The Segments
Each podcast is unique, consisting of a selection of stories from the live show, announcements from our fictional sponsors, and occasional one-off sketches.
Sparks Nevada
Marshal on Mars
Marc Evan Jackson plays Sparks Nevada, an Earth man sent to protect the Red Planet from the universe's robot outlaws, alien invaders and other galactic threats. Mark Gagliardi plays Sparks Nevada's trusty native Martian sidekick, Croach the Tracker. Busy Philipps plays The Red Plains Rider, a human raised by Martians who rides the red plains of Mars in vigilante fashion. Josh Malina plays the Barkeep of the Space Saloon. He does not want any trouble in his place.
The Adventures of Captain Laserbeam

As camp as the old Batman show, facing off against ridiculous villains such as the Numbler, the Die-brarian, and Shape-Ape, Captain Laserbeam protects Apex City while trying not to lose his patience with his excitable Adventurekateers or trip himself up emotionally with the pretty new police commissioner.
Down in Moonshine Holler

A hobo fairytale. During the Great Depression, a millionaire's son fell in love with a woman he thought was his societal equal. In truth, she was the Hobo Princess. She fled, leaving behind only a fingerless glove. Now, under the assumed identity of Banjo Bindlestuff, the millionaire's son rides the rails with his hobo-mentor Gummy, in search of his one true love he believes will be found in the possibly make-believe hobo-paradise: Moonshine Holler.
Beyond Belief

Meet Frank and Sadie Doyle: the toast of the upper crust. Headliners on the society pages. And, oh yes, they see ghosts. Trading quips and tossing back cocktails, the Doyles take what they want and hoodwink their clientele for the rest. Ghosts, vampires, werewolves, mummies, even diabolical gingerbread men are nothing but obstacles in the way of the liquor cabinet for our fast-talking, hard-drinking sleuths.
Jefferson Reid
Ace American
A clandestine war is being waged against the Reich, and at the frontlines of this sometimes mystical, often monstrous battle, is Jefferson Reid, America's only super-soldier. Aided by his super-sweetheart, Agent Abby Adams (who hates nothing as much as she hates a dirty Kraut), and his plucky sidekick, Brownie Finn, Jefferson Reid, Ace American is a jingoistic romp through a World War II that never existed.
Desdemona Hughes
Diva Detective
And now we take you to the Hollywood of yesteryear, in a tale of mystery and murder, featuring Tinseltown's Woman of a Thousand Faces, Desdemona Hughes, Diva Detective.
Phillip Fathom
The Deep Sea Detective
He is the sub-aquatic darkness. He is the Abyssopelagic layer. He exerts the pressure of justice on the metazoic creatures who lurk in the deep. He is the hero the ocean deserves. He is your semiamphibious knight. AND HIS PARENTS DIED AT SEA!!
Amelia Earhart
Fearless Flyer
Spinning out of the pages of Ace American! Amelia Earhart faked her death in 1938 and went to work for the American Victory Commission. Now, she uses her Lockheed Elektra to crisscross the time stream to stop the Reich from rising where it shouldn't.
The Cross-Time Adventures of Colonel Tick-Tock

The fey Colonel polices the fractured timeline for Her Majesty's Royal Chrono Patrol, interrupting not-always-terribly-well-researched historical moments and facing down the occasional villain, including the Greenwich Meanie, Auntie Meridian and the occasional dinosaur, from pre-history and all that. Pip pip!
The Algonquin Four

Dateline: the 1920's. A celebrated group of New York's sharpest wits met daily at The Algonquin Hotel, enjoying barbs and bon mots. Until one day a comet struck and those present found themselves possessed of powers beyond the ken of mortal men.
The Red Plains Rider

Justice rides a rocket steed across the crimson plains of the fourth planet, where one woman rights the wrongs that slip through the cracks of traditional law enforcement. She rides the red plains of Mars. She is The Red Plains Rider.
Gross. So Gross.
Sparks Nevada, Marshal on Mars
Hi all my buddies!
Jib Janeen, Jupiter Spy
I am Croach the Tracker, not Gilft the Helpful!
Croach the Tracker, "Inside Out in Outer Space"
You'll be there in spirit, and spirit is stronger than 100 laser beams… also I'll have my 100 laser beams
Captain Laserbeam
I can see my breath! It looks like whiskey
Frank Doyle
Dorothy Parker SMASH!
Dorothy Parker
"I am under bonus onus to you for that, baby smacks"
Croach the Tracker
"I have awake apnea."
Adventurekateer Patrick
The Thrilling Adventure Hour Graphic Novel
Drawn from the popular stage show and podcast, The Thrilling Adventure Hour is a collection of original tales that harkens back to the heyday of genre entertainment.
Written by TAH creators Ben Acker and Ben Blacker, this 136–page hardcover anthology features ten new stories from the worlds of the Thrilling Adventure Hour. Brought to life by top artists from the comics community, each stand–alone tale celebrates and reinvigorates a different classic genre, including science fiction, fantasy, westerns, superheroes, horror, war dramas, and many more.
A unique, timey–wimey blend of silver age pulp and post–modern pop, this one–of–a–kind anthology promises something for everyone as this cult phenomenon jumps off the stage, out of your earbuds, and onto the page for the first time!
If you don't like The Thrilling Adventure Hour, then you are an enemy of fun. Period. I mean, seriously… what is wrong with you?? Who are you people??
``Weird Al`` Yankovic
Ladies and Gentlemen, it is me, JOHN HODGMAN, who offers this testimonial. It has been only 21 months since I first encountered The Thrilling Adventure Hour, and my life has not been the same since. Beyond being the best staged episodic radio comedy of the 21st century, TAH is also and more plainly just wonderful: one of the most joyously and smartly written entertainments that I have encountered. Acker, Blacker, and the Workjuice Players just make me happy. And also I am generally more alert and my eczema has cleared up. So it is extra exciting to welcome TAH to the funny pages, thus merging two great marginal American art forms into ONE, and eliminating the need for all those human actors and singers, who are generally longwinded jerks. Myself most of all.
John Hodgman, Deranged Millionaire
Have you ever wished you could gather up the gorgeous geniuses who write and perform The Thrilling Adventure Hour and just shove them in your backpack and take them home and make them perform your favorite sketches over and over and over and over, Misery–style? Well, here's the next best thing. YOU'RE WELCOME.
Patton Oswalt
I read this repeatedly, laughing all over again. It's that flat–out wonderful and hilarious. Crossing from one medium to another is a ten for difficulty but luckily Acker and Blacker have not just managed, but they've made whole new dimensions in narrative their next frontier. It's The Thrilling Adventure Hour's planet and we're lucky to live in it. Like so many others in this book, I'm glad that, after all, we're making soup.
Glen David Gold, Author
The Thrilling Adventure Hour is more fun than human beings should be allowed to have.
Len Wein, Creator of Wolverine
The Thrilling Adventure Hour is that and more. The crackerjack writing pops like a warm old Silvertone, and its characters will immediately charm you into coming back for more conveniently serialized old–timey new– new. Reading this thing is the next best thing to seeing the live show. Which is like the best thing.
Jackson Publick, Creator of ``The Venture Brothers``